Distribute content to your target audience and maximize your ROI
Broadcast-quality channels and programs used to require expensive hardware and a team of specialists. Channels could only generate a return on investment if they ran many hours a day for several years, which meant that only large companies could run channels. But that has changed…
With makalu cloud playout, broadcasters, publishers and content owners launch and manage their own channels with all the benefits of broadcast programming but without any corresponding operational costs.
Create and run linear live, pop-up or FAST channels – and instantly distribute your content digitally all across own branded platforms (e.g. websites), mobile apps (iOS and Android), and smart TV apps like Samsung TV Plus, LG, ROKU, Rakuten TV, Pluto TV, or waipu.tv.
Monetize your content
Complete end-to-end playout workflows.
Reach a large audience
Multiplatform content delivery (satellite, cable, web, OTT, IPTV…) on various devices.
Get full cost control
Transparent SaaS model with predictable TCO.
100% remote
Playout from anywhere at any time. Web-based, location-independent configuration and usage.
Operation service
If desired, we take care of your playout business.
Dashboards
Use our media integration platform qibb to integrate dashboards.
Generate new revenue streams with cloud playout
More and more companies are discovering cloud-based channel playout for themselves. In addition to the simple fact that even smaller companies can implement such a solution without much technical and financial effort, it's one thing in particular that causes the cloud playout boom: Revenues are developing rapidly.
Be it linear live, pop-up, or FAST: Advertising is one way to monetize a cloud playout channel. Take FAST channel, for example. According to Statista, the advertising revenue of FAST services in the United States alone is expected to reach over six billion U.S. dollars by 2025 – a huge increase compared to revenues of 0.7 billion US dollars in 2019.
FAST is an ideal entry to OTT

Low set up costs, global reach, enhanced revenue streams.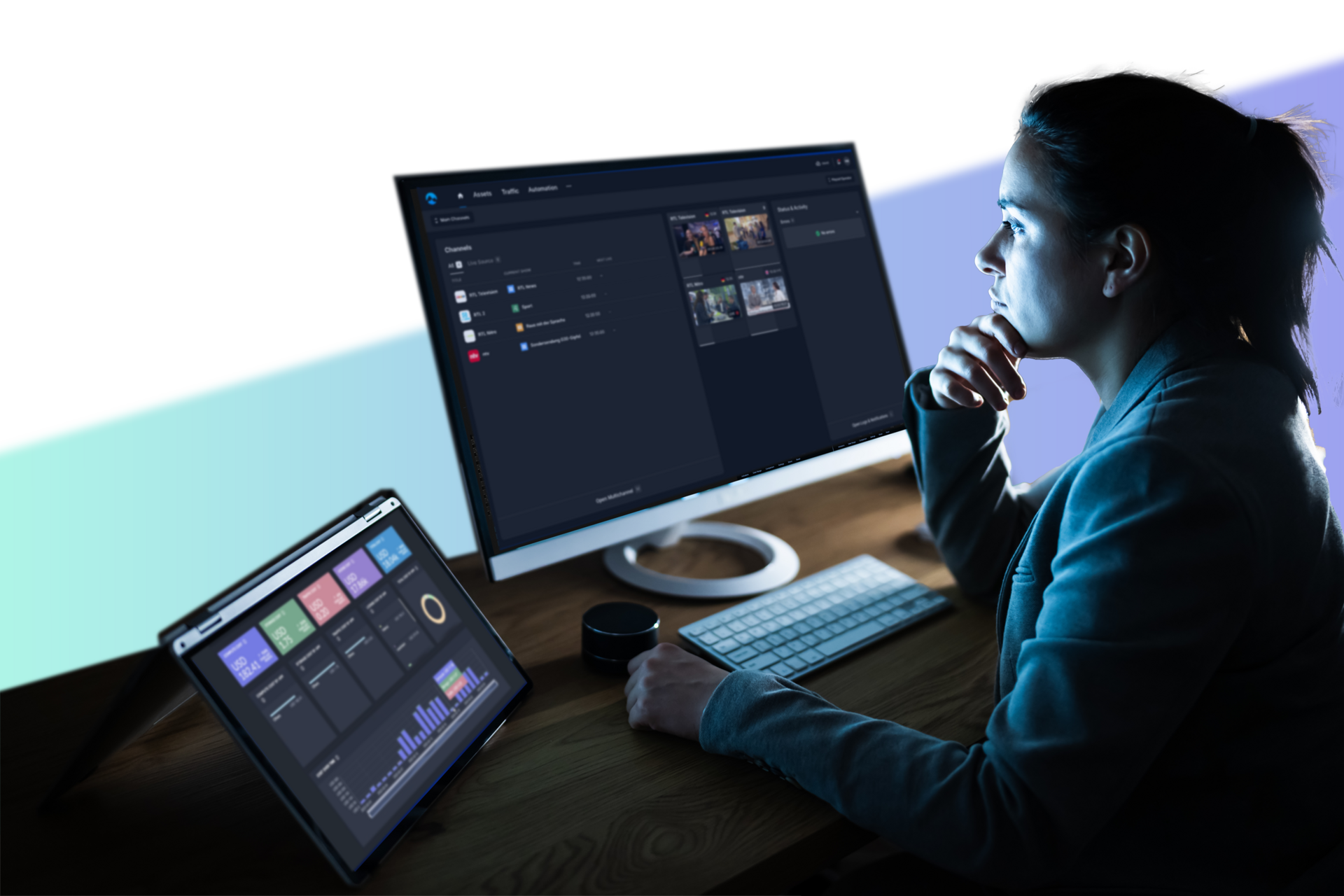 Start fast and easily
Quick deployment of linear live, pop-up, FAST channels and brand TV.
Customize as desired
Enterprise solution that fits your business model.
Gain competitive edge
Full functionality and support of FAST channel.
Achieve Net Zero goals
Can be operated completely decarbonized and remotely.
Just start your own channel experience
With makalu you can distribute content to your target audience and maximize your earnings. Why don't you just start your own channel experience and benefit from these features that make makalu attractive for broadcasters, publishers and content owners alike:
Ready-to-go cloud-native product
Customer-centric development and tailormade delivery
Easy cloud adoption
Attractively priced
All-in-one Cloud Playout Auto­mation

for broadcasters, publishers and content owners
What do you want to create?
Contact
Let's talk
You need a demo or want to talk to an expert?