Free your content with cloud playout
As the media business becomes ever more complicated and challenging, broadcasters have to choose a technology to adapt to these changes. Cloud playout is a promising solution as it comes with simplicity: It allows you to easily spin up TV channels in the cloud, configure them and start distributing content within a few minutes – and scale infrastructure down again when needed.
With makalu, you can launch new channels to deliver traditional and OTT content more efficiently without much investment. Both shelved content and live feeds can be compiled and scheduled for linear live, pop-up and FAST channel distribution, allowing you to monetize you content both through 24/7 linear channels and targeted linear delivery.
makalu cloud playout software is based on a manufacturer-independent, service-oriented architecture to achieve a maximum level of flexibility and scalability. It features fully IP-based workflows for multiscreen delivery including MPEG-TS, SMPTE ST 2110, OTT, IPTV and SDI.
Channel-in-a-box system for your broadcast playout
Benefit from a channel-in-a-box system with an end-to-end signal workflow that covers media tasks along the entire media supply chain – from ingest to distribution – like ingest, storage, media management, transcoding, graphics, planning, playout and streaming.
With its transparent SaaS model and predictable TCO, makalu can significantly reduce the costs associated with traditional playout systems, including hardware, software licenses and maintenance.
Manage feeds
From multiple countries centrally: Deliver content directly to operators – with true cloud or edge playout.
Improve efficiency
Manage hundreds of feeds and scale at will using the cloud and automated processes for QC and monitoring
Tailored to broadcaster's needs
With makalu, broadcasters can easily operate channels from a browser and enjoy greater flexibility, accessibility, cost-effectiveness, reliability, and efficiency, enabling them to deliver high-quality content to your audiences – with great ease and confidence. Perfectly suited for linear live, pop-up and FAST channel playout
All-in-one Cloud Playout Auto­mation

for broadcasters, publishers and content owners
What do you want to create?
makalu meets your needs
Taking many different perspectives is key to drive innovation. makalu offers lots of benefits for lots of people. To find out which ones are the most important for you, tell us what's your job.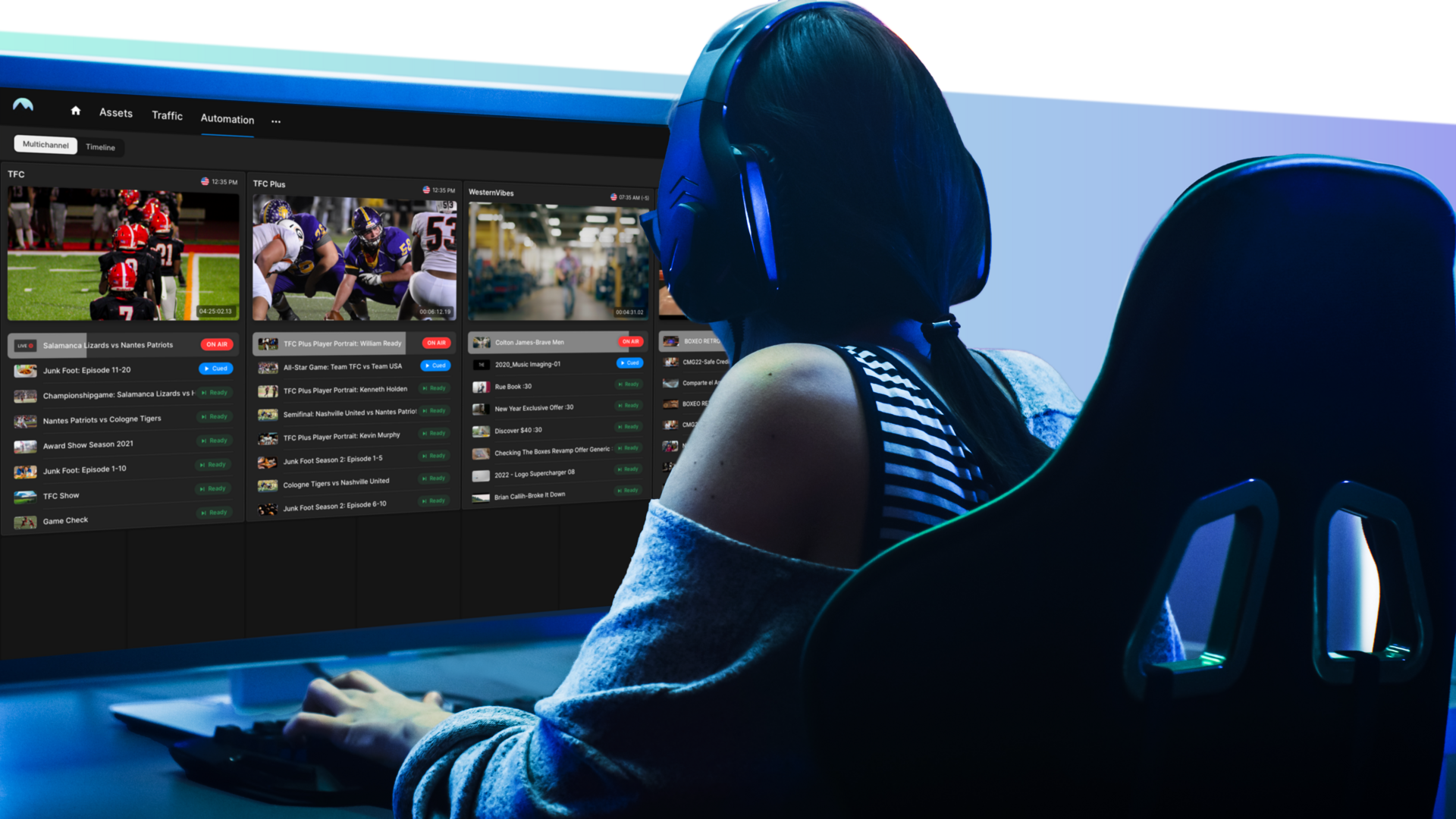 Fantastic GUI
Easy handling, seamless functionality and maximum user experience for operators.
Automatic up & down cross-converting
Convert many different video files in no time.
100% remote
Web-based, location-independent configuration and usage. Operate from anywhere at any time.
Services for operations
If desired, we take care of your playout business.
Contact
Let's talk
You need a demo or want to talk to an expert?